November 1 is the birthday of Caroline Harris. One of the legends of Alla Nazimova is that when she landed in the United States, she couldn't speak a word of English. However, she managed to impress Shubert brothers so deeply that they hired her on the condition she learn English in six months. And she did! Yesterday, we came across a posting commemorating the birth of actress Caroline Harris who was credited in her obituary as being the person who taught Alla to speak English.
"[Feodor]Chaliapin, the famed Russian singer, came to Los Angeles for three seasons, 1923, 1924 and 1925. After his performances, he invariably went to Alla's house to eat two big steaks, drink half a bottle of vodka, and tell dirty stories until morning."
Shelia Graham, The Garden of Allah.
West Hollywood, Calif. (March 10, 2015) A lost trove of early 20th century costumes and fashionable street wear from the estate of Broadway and silent-film star Alla Nazimova ("Nah-ZIM-oh-vah") was discovered last fall in an unlikely place: a storage building behind a home in Columbus, Ga.
College student Jack Raines found the garments fastidiously packed in a steamer trunk stored on the grounds of his grandmother's house. Four other trunks also once belonging to Nazimova were empty.
Among the items Raines found was a costume headpiece festooned with pearl-like beads. A note packed with it read, "Salome Wig." It was immediately recognizable as the wig Nazimova wore in "Salome," an independent film that she starred in, wrote, directed in 1923. The film's sets and costumes, including the wig, were designed by Natacha Rambova, who was married to film star Rudolph Valentino. Nazimova based her script upon Oscar Wilde's 1891 play, "Salome," and Rambova's costumes and sets were inspired by Aubrey Beardsley's illustrations for an 1894 published version of Wilde's play.
"The Salome wig is an invaluable artifact from the silent film era," said Martin Turnbull, co-founder of the Alla Nazimova Society, and author of the Garden of Allah Novels. "Its discovery 90 years after the film's release is a significant find for film historians and fans of Hollywood's golden era worldwide."
There's an important overview of the location and status of Alla Nazimova's papers and other research assets on Columbia University's Women Film Pioneers Project, written by Jennifer Horne, including this bit:
There is no denying the intriguing power of a biographical narrative that traces connections between Alla Nazimova and almost every prominent lesbian in Hollywood, as well as gay male cultural icons such as Oscar Wilde, Rudolph Valentino, and Montgomery Clift, and ends with a penniless and ill Nazimova a tenant in the Los Angeles hotel she once owned. But the archival materials that have been collected over the years suggest that much more can be made of Nazimova's life as performer, both on screen and off.

The personal correspondence and writings that constitute the Nazimova Papers at the Glesca Marshall Library in Columbus, Georgia, have not as yet been cataloged. The extensive collection of copyrighted publicity stills and family photographs, postcards, letters, and newspaper clippings at the Library of Congress in both the Kling-Lewton Papers and the Harry E. Vinyard, Jr., Papers offers to researchers a fragmented but illuminating documentation of the devoted following Nazimova's celebrity attracted over the course of her career.
Originally broadcast in September 1998, with commentary by the late Gavin Lambert, author of the definitive biography, "Nazimova: A Biography."

June 4 is Alla Nazimova's birthday. She would be 135 years old today, but we suspect she'd only admit to 110. Here's an astrological chart that someone prepared on her behalf. Some of the information is inaccurate — she never actually studied with Stanislavsky and she did eventually divorce her first husband, but close enough.
Not only did Madame Nazimova star in the production, but she directed it too!
More information on Erlanger's Biltmore Theater:
I first met Alex Chowaniec 4 years ago when we were both showing in a pop-up gallery in San Francisco.  Now both in NY, we swapped studio visits on a winter afternoon. I was excited to hear about her project questioning cultural traditions in contemporary Russia.
A friend gifted Alex a set of raw unpainted matryoshka dolls. These are the popular Russian souvenirs of one babushka within another. The folk art that is hand painted on wood milled from a single block of basswood. When the anti-gay laws came out in Russia this past summer, a ban specifically on propaganda of non-traditional sexual relations, she knew exactly what she wanted to do.
Russia it turns out has a long history of prominent LBGT figures, and Alex wanted to bring some awareness to this buried culture by painting some of these figures on Russia's popular souvenir. And here comes the ironic twist, the dolls aren't really all that Russian. Their origins are Japanese; the design was inspired by a doll from the main Island of Honshu, that came as a gift to two Russian craftsman who entered their version into 1900 Worlds Fair, winning a bronze medal and accidentally triggering a new fad.
Alex chose to start the smallest doll with the oldest chronological LGBT figure: Ivan the Terrible (known to go both ways, 1530-1584) and ascending in scale and time through Nikolai Gogol (author/novelist/writer, 1809-1852), Peter Tchaikovsky (composer, 1840-1893), Alla Nazimova (silent-film star, a fashion inspiration to Lady Gaga, 1879-1945) ending with the outer most doll representing Pussy Riot our present day activist rockstars. The set of figures delineates the existence of a tradition of homosexuality in Russia's history.
When I asked Alex if she had any plans to turn her project into reproduced multiples, she said no, but she would be interested in making more based on people's engagement with these and suggestions of other figures. "Or," she added, "if other people want to make similar dolls as a form of activism, that would be great! The intent is for the digital images to serve as viral agents of change." She really just to start a conversation – unpack the history and open up the questions. For example, how is Russia going to handle openly gay athletes winning medals at the current Olympics? The matryoshka doll is one of the main official souvenirs of the Sochi olympic games.
Alex's recent work will be included in "Inspiring Change," an exhibition in Ottawa, Canada opening next month on International Woman's day. The show will also be happening simultaneously with her display of recent drawings at New York's SCOPE.
Since I last saw Alex in San Francisco, she has branched out from her painting into film. A few years ago, she became a producer of Lynn Hershman Leeson's documentary, HYPERLINK "http://www.womenartrevolution.com" "!Women Art Revolution", about female artists that had its New York premiere at MoMA. She is currently in pre-production of her own documentary film project about a Slovenian female artist. She says, "sharing a lineage of female artists is critical – it is the ideology that underpins my work in this medium."
Text by David Molesky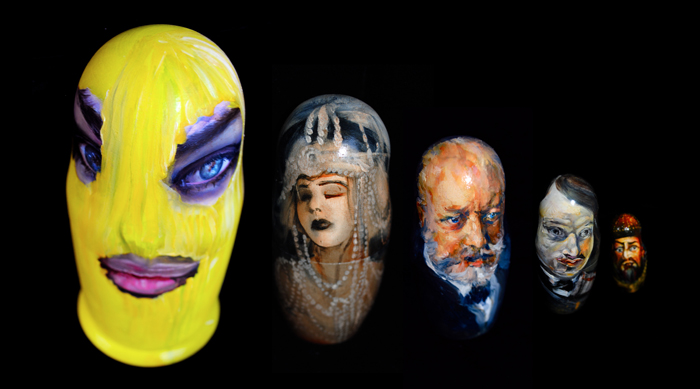 WEHOville:
[Dorothy] Parker's WeHo history will be celebrated this weekend with a series of events, beginning with a reception at Tags, the clothing store on 8570 W. Sunset Blvd. near Alta Loma, for Kevin Fitzpatrick, author of "Under the Table: A Dorothy Parker Cocktail Guide." Fitzpatrick is president of the Dorothy Parker Society in New York. The LA chapter is headed by Adrienne Crew. The reception is from 6 to 8 p.m. and includes cocktails and discounts on shopping.

On Saturday there are two events: A bus tour of Parker's West Hollywood and Beverly Hills residences, including the former location of Alla Nazimova's Garden of Allah and mansions and cottages where Parker lived. The bus boards at 1 p.m. across from Book Soup at 8818 Sunset Blvd. west of Palm. Tickets, $49, are available online.

At 4 p.m. on Saturday, Book Soup will host a discussion of Parker's Hollywood years, speakeasy drinks and Prohibition recipes. It will be the only place in Los Angeles where one can buy a signed copy of Fitzpatrick's book.

"I like to have a martini,
"Two at the very most.
"After three I'm under the table,
"After four I'm under my host"
– Dorothy Parker
Alla Nazimova Society co-founder Martin Turnbull was interviewed recently by the Kim Cooper and Richard Schave, the folks behind Esotouric and the Los Angeles Visionaries Association (LAVA) about Alla Nazimova and the Garden of Allah. You can listen to the podcast through the Los Angele Magazine website.
Update: Esotouric has released their second podcast interview with Martin. You can listen to it by clicking here.