Alla Nazimova is included in a set of (non-traditional) matryoshka dolls by Alex Chowaniec
I first met Alex Chowaniec 4 years ago when we were both showing in a pop-up gallery in San Francisco.  Now both in NY, we swapped studio visits on a winter afternoon. I was excited to hear about her project questioning cultural traditions in contemporary Russia.
A friend gifted Alex a set of raw unpainted matryoshka dolls. These are the popular Russian souvenirs of one babushka within another. The folk art that is hand painted on wood milled from a single block of basswood. When the anti-gay laws came out in Russia this past summer, a ban specifically on propaganda of non-traditional sexual relations, she knew exactly what she wanted to do.
Russia it turns out has a long history of prominent LBGT figures, and Alex wanted to bring some awareness to this buried culture by painting some of these figures on Russia's popular souvenir. And here comes the ironic twist, the dolls aren't really all that Russian. Their origins are Japanese; the design was inspired by a doll from the main Island of Honshu, that came as a gift to two Russian craftsman who entered their version into 1900 Worlds Fair, winning a bronze medal and accidentally triggering a new fad.
Alex chose to start the smallest doll with the oldest chronological LGBT figure: Ivan the Terrible (known to go both ways, 1530-1584) and ascending in scale and time through Nikolai Gogol (author/novelist/writer, 1809-1852), Peter Tchaikovsky (composer, 1840-1893), Alla Nazimova (silent-film star, a fashion inspiration to Lady Gaga, 1879-1945) ending with the outer most doll representing Pussy Riot our present day activist rockstars. The set of figures delineates the existence of a tradition of homosexuality in Russia's history.
When I asked Alex if she had any plans to turn her project into reproduced multiples, she said no, but she would be interested in making more based on people's engagement with these and suggestions of other figures. "Or," she added, "if other people want to make similar dolls as a form of activism, that would be great! The intent is for the digital images to serve as viral agents of change." She really just to start a conversation – unpack the history and open up the questions. For example, how is Russia going to handle openly gay athletes winning medals at the current Olympics? The matryoshka doll is one of the main official souvenirs of the Sochi olympic games.
Alex's recent work will be included in "Inspiring Change," an exhibition in Ottawa, Canada opening next month on International Woman's day. The show will also be happening simultaneously with her display of recent drawings at New York's SCOPE.
Since I last saw Alex in San Francisco, she has branched out from her painting into film. A few years ago, she became a producer of Lynn Hershman Leeson's documentary, HYPERLINK "http://www.womenartrevolution.com" "!Women Art Revolution", about female artists that had its New York premiere at MoMA. She is currently in pre-production of her own documentary film project about a Slovenian female artist. She says, "sharing a lineage of female artists is critical – it is the ideology that underpins my work in this medium."
Text by David Molesky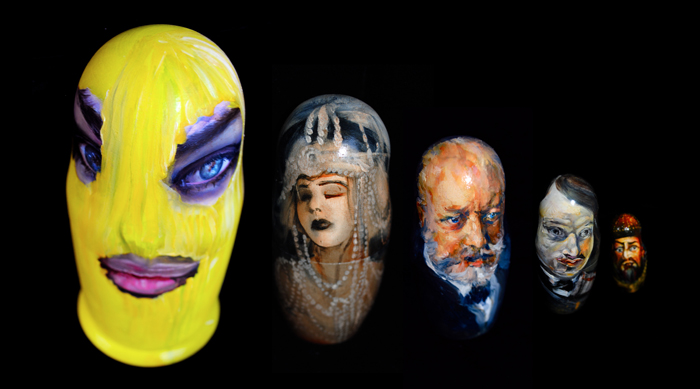 Martin Turnbull | Feb 12, 2014